Saturday I participated in the 3rd annual Racing Underground 1.2 & 2.4M Open Water Swim Race. This is a pretty low key event, with no swag and no awards, but we did have timing chips, which was nice. There were about 100 other people doing the race, which was the perfect amount for me to practice not panicking in a mass start. Plus, with the 2.4M option, it was great for my IMAZ training.
The race was supposed to start at 6:30, which is a good thing, because lately the sun isn't even coming up until then (hello Fall)! I got to the reservoir around 6 and it was still really dark out. AND COLD!! In the last couple of days, we've had a "cold" front move in which has dropped our daytime temps into the 80s. It's awesome during the day, but Saturday morning it was in the 50s and there was a crazy WIND that made it feel even colder. The water temp. was in the 70s, so it was actually nicer to be in the water then out of it! :)
Here's a map of the race course. It was this huge rectangle that pretty much spanned the entire reservoir. It is 1.2M, so for the 2.4M swim, we did two laps. I thought the buoys looked really FAR away and got a little panicked about the distance.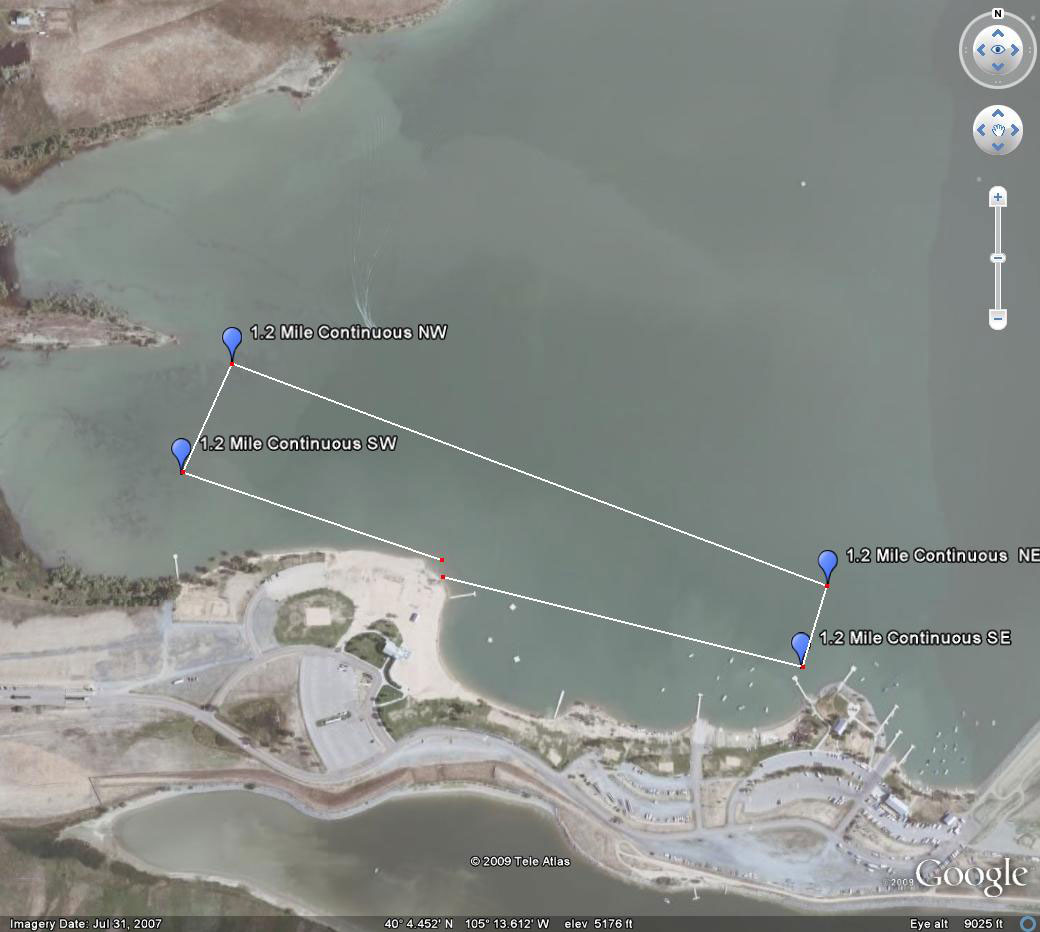 As I was putting on my wetsuit, someone behind asked, "Is that Aimee from I Tri To Be Me?" I was really surprised as I turned around and said, "Yes.." It ended up being a guy named Steve (hi Steve!) that said he recognized me from my blog! I was a little embarrassed, but we got to talking and he was super nice! He helped keep my nerves at bay before we started! We went down to the start together, then I lost track of him as we were warming up. He was doing the 1.2M swim, so I hope he had a good swim! :)
Before I knew it, it was time to start! We started on the beach, but the water level has dropped so much that I'd say the first 50ft. was only up to my knees/thighs. The timing mat was on the beach, but honestly I didn't even start swimming for awhile, so I started my watch as I was walking through the water.
The mass start wasn't bad at all and I had almost no contact, which was great! BUT, the one bad thing about the race starting right when the sun was coming up was that we were swimming right INTO it! Seriously, I could NOT see a thing! I got off course so many times it was insane! At one point I went to sight and was swimming diagonally into the wrong direction and I almost ran into a boat! OOPS!!
Other than the sun, the first lap went pretty well, but it felt really LONG! I just kept seeing buoy after buoy and I was glad to finally go around the final turn back to the start. I came to the end of the first lap and had to walk through the water again in order to start my second lap. I'm not going to lie, it was a nice little break! :)
Again, on the 2nd lap it was into the sun...ugh! It was soooo hard to see the buoy and it was really frustrating. AND, again, I kept getting off course. It was a little choppy, so I don't know if it was the waves, or not being able to see the buoy, but I just COULD NOT get my bearings and swim straight for the life of me. Seriously, I think I added another couple 100 yards to my total swim distance! Ugh!
But, as I was swimming and swimming the whole time I was thinking, I CAN DO THIS! Then, as I got closer to the finish, it was I'M DOING IT! All I could think about was how awesome I felt knowing that I can swim the distance at IMAZ and it just made me sooo happy!
I got out of the water, happy as can be, and headed towards the bathrooms to change. As I was getting my stuff, a girl asked, "Are you Aimee from I Tri To Be Me?" I said, "Yeah!" and she said, "I follow your blog!" It was so cool! Her name was Jennifer (Hi Jennifer!) and we started talking all about the swim. She was super nice too!
Anyways, according to my watch, I did the 2.4M swim in 1:28!! Now, I know I am NOT a fast swimmer, but considering the walking and swimming off course a ton, I didn't think that time was too bad! At least it's good enough to make the swim cut-off time at IMAZ. :) And, I still have 2 1/2months of training left!
* Next up...a 10M race tomorrow! Woohoo!! :)
I hope you are all having a great Labor Day weekend!